The Basics
First, some information about this site's traffic. During 2008's month of December -- from 1 December 2008 to 31 December 2008 -- the website received 183,559 individual visitors (as measured by sessions), or almost 6,000 each day on average (see screen shot of fisheaters.com's Urchin stats). The front page (index.html) received 54,538 pageviews (see screen shot). Advertising on the front page would mean that your ad would likely be seen around 1,800 times a day, and around 54,000 times per month.

During January 2013, the discussion forum received 3,071,682 page views, or around 100,000 views per day on average (see screen shot of message board stats from message board administrator control panel for January 21012 - January 2013, with daily stats for the last month). Advertising here means your ad could be seen about 100,000 different times per day and, depending on the type of ad you purchase, over 3 million times per month .


Rates
Advertising on the home page of the Fish Eaters Website:

Your ad would appear at the right hand column, under the site's search box: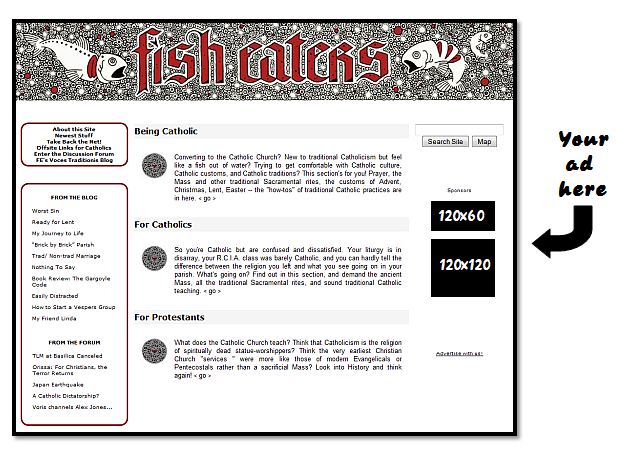 Ad size options and monthly rates are as follows:

120 X 120 square
$75

120 X 90 rectangle
$50

120 X 60 rectangle
$40

120 X 30 rectangle
$30
Advertising at the discussion forum:

You have two options here: A) a full banner ad or B) an upper right corner ad.
A) Full Banner Ad: Your ad will appear on the very top of all discussion forum pages, before any other text or graphic (with the possible exception of encouragement from us to visit our sponsors), to be seen on average one and a half million times a month. Size and price are as follows:

728 X 90 full banner: $220


B) Upper right corner ad: Your ad will appear at the top right of all discussion forum pages. Size and price are as follows:


120 X 120 square: $120


Conditions
Ads are sold as above, with no counting of impressions and click-throughs and such. This way, you will know up-front what your costs will be.

The ads on the front page will be non-rotating (i.e., your ad will appear always for the purchased time, not randomly); the large banner ads at the discussion forum will be rotating with no more than five other ads in each place (with Google AdSense counting as one ad). The forum corner ad is static, like the ads on the front page.

You can change the graphic that you use for your ad any time -- for example, if you want to announce a sale; just send along the new graphic file and let me know when you want it to appear and any changes in the URL you want it to point to. In fact, from what I've read, changing your graphic periodically is a good idea, as long as "branding" is considered.

Ads will appear for 30 full calendar days and will begin after payment and then at your discretion.

The sites that the banners and buttons link to should not contain material that a Catholic would find offensive. Any business in question doesn't need to concern "Catholic items," per se, however. We Catholics love books and music and jewelry of all kinds, for ex., and if you think you have a potential market here at FE, "s'all good". Any games played with this by the ill-willed -- e.g., setting up a fake storefront, then re-directing to a porn site or what have you in order to offend Catholics -- will be at the joker's expense: the ad will be quickly removed and no refund will be given.

If you have something else in mind that doesn't quite adhere to the outline above, such as ads at the bottom of the forum pages, etc., write to me and let me know; maybe we can work something out. I know times are tough out there (believe me, we know; that's why I am finally caving in to the need to accept ads!), so if you're a tiny, new business, we could work out payment plans for the big discussion forum ads, or maybe even haggle or barter a bit. I'm malleable, and my main concern is that the website and, especially, the very-expensive-to-run discussion forum pay for themselves.

If you do advertise, I sincerely pray that it works out well for you, that your website gets lots of traffic, and that, if you're in business, you sell lots of wonderful things and make a nice, honest profit. May SS Clare, patroness of the internet, and Nicholas, patron of merchants, intercede for you!
Write to Tracy@fisheaters.com to arrange an ad