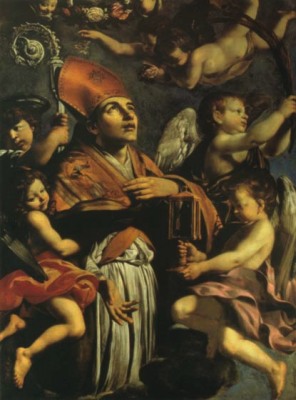 San Gennaro, the Bishop of Naples (or Benevento) was beheaded, with his Companions, at Pozzuoli in A.D. 305 by Diocletian for refusing to worship pagan idols. Ever since at least A.D. 1389, his dried blood, a solid mass inside a silver reliquary in the Cappella del Tesoro (Chapel of the Treasure) of the 13th c.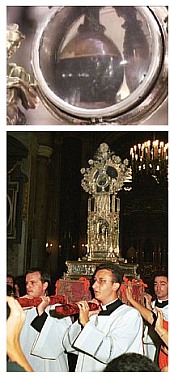 Naples Cathedral (the "Duomo"), liquifies, and sometimes even "boils"; if it doesn't, disaster is said to follow.

His blood is kept in two vials inside the reliquary which is topped by a crown and a cross. When the Bishop takes the vial to the Altar that holds the Saint's head, the people, who gather by the thousands, pray that the blood becomes liquid once again. If the miracle takes place, the officiant proclaims, "Il miracolo é fatto!" and waves a white handkerchief. Then a Te Deum is sung and the reliquary is taken to the altar rail so the faithful can kiss the vial.

This miracle takes place on the first Saturday before the first Sunday of May (and during the 8 days that follow), on his Feast (and during the octave of his Feast), and, sometimes, on December 16.

Because he is the Patron Saint of Napoli, he is dear to the Southern Italian people, and in New York City, where there's a large Italian American population, there's a huge San Gennaro celebration in Little Italy.