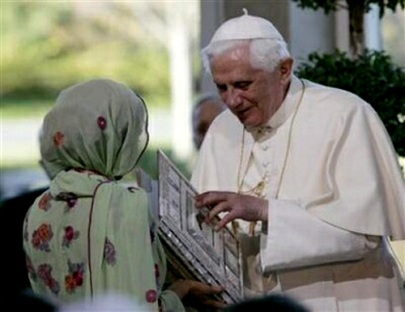 On April 17, 2008, during the inter-faith meeting, Benedict happily received an ornate, silver-plated copy of part of the Koran from a Muslim.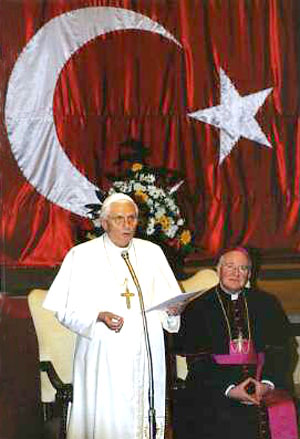 On November 28, 2006, Benedict XVI addressed ambassadors and religious leaders at the Vatican Embassy in Ankara, Turkey. He chose to have as the background setting for his speech an enormous Muslim Crescent.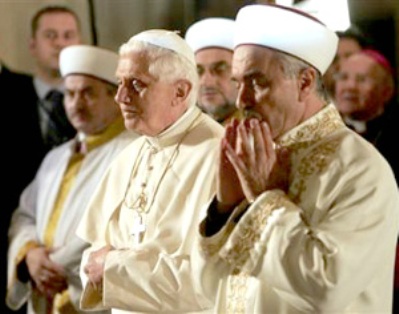 Benedict XVI "Hailed for Praying Like Muslims Toward Mecca." - Dec 1, 2006
ISTANBUL (Reuters) – "Pope Benedict ended a sensitive, fence-mending visit to Turkey on Friday amid praise for visiting Istanbul's famed Blue Mosque and praying there facing toward Mecca 'like Muslims.'… 'The Pope's dreaded visit was concluded with a wonderful surprise,' wrote Daily Aksam on its front page. 'In Sultan Ahmet Mosque, he turned toward Mecca and prayed like Muslims.' "
"The Holy Universal Church teaches that it is not possible to worship God truly except in Her and asserts that all who are outside of Her will not be saved." (Moralia, Pope St. Gregory the Great, 590 – 604)
Be very afraid of the new Assisi.