Here's the link
http://www.mysticalcityofgod.org/
If you don't know yet the book, it is the Life of Blessed Virgin Mary from her conception to coronation as was revealed to Venerable Mary of Agreda in 4 volume books.
You can hear some audio preview in the site. I would highly recommend them because in it the Lord also said some interesting things to ven. Mary about what he wants us to hear.
Ven. Mary of Agreda's body is incorrupt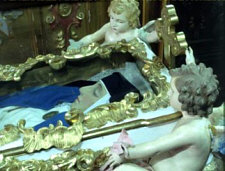 Preview:
God the Father said the following:
74. "And in order that thou mayest better understand the answer to thy doubt, remember, that there is neither any succession of time in my decrees, nor any need of it for the perception and the execution of them. Those that say that the Word became incarnate in order to redeem the world, say well; and those that say, that He would have become incarnate also, if man had not sinned, likewise speak well, only it must be understood in the right way. For if Adam had not sinned, Christ would have descended from heaven in that form, which would be suitable to the state of man's innocence; but as Adam sinned, I resolved by the secondary decree, that He should be made of passible nature; since foreseeing sin, it was proper, that it should be repaired in the way in which He has done it. And as you desire to know, how the mystery of the Incarnation would have taken place, if man had preserved the state of innocence, know, that the human substance would have been essentially the same as now, only it would be clothed with the gifts of impassibility and immortality, such as my Onlybegotten possessed after his Resurrection and before his Ascension. He would live and converse with men; the hidden sacraments and mysteries would all be manifest; and many times would his glory shine forth as it happened once in his mortal life (Mark 17, 1). He would, in that state of man's innocence, have become manifest to all men in the same manner as He once showed Himself to the three apostles in his mortal state. All those on the way to heaven would see the great glory of my Onlybegotten; they would be consoled by conversing with Him and they would place no obstacle to his divine workings, for they would be without sin. But all this was impeded and spoiled by the guilt of sin and on that account it was proper, that He should come in passible and mortal nature."
"The Mystical City of God", Mary of Agreda, p. 77-78.
---
St Athanasius Traditional Catholic Library
http://www.freewebs.com/wallmell
Story of a Soul - 100 free catholic ebooks
http://www.storyofasoul.com/