I know this has been covered in other threads but the irony is too much to pass up, from Boston Catholic Journal.
http://www.boston-catholic-journal.com/index.html
Martin Luther Commemorative Stamp to be issued by Vatican this year
According to Lifesite News Martin Luther will be "celebrated" under Francis' direction by the Vatican's issuing a special "commemorative stamp" depicting the heresiarch and the 500th "anniversary" of the Protestant Revolt that shattered Christian unity in Europe. Given this extraordinary development the following stamp may be in the process under the papacy of Francis as well: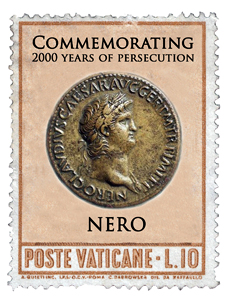 Perhaps under Francis, similar stamps will soon be issued commemorating the persecution of the Catholic Church by Diocletian, Commodus, Domitian, Trajan and Hadrian as well. We will keep you ... "posted".