MarcAntonio Colonna is the pen name of the author of "The Dictator Pope" which reveals sad truths about Pope Francis.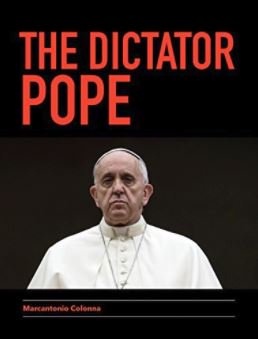 Pope Francis is now looking for the writer, and if the writer is any sort of cleric, things won't be good for him if he's found. 
Fellow Catholics on Twitter -- fed up with Francis's watering down of the faith, incessant pushing of immigration, trying to make a liberal view environmentalism a matter of the Faith, honoring pro-abortion activists, refusal to clarify
Amoris Laetitia
in line with Tradition, scandalous confusion-mongering, pandering to homosexualist activists, attacks on traditional Catholics, destruction of traditional religious institutes, sacrilegious Nativity scenes, etc.,
ad nauseam
 -- are using the hashtag
#IAmMarcantonioColonna
 in order to "hide" "Marcantonio Colonna" and to show Pope Francis that they stand true to the Faith. These hasthags are often
accompanied by memes
.
Please, if you're on Twitter, especially if you're posting some (yet more) bad news about Pope Francis, use that hashtag!
Here is some information you can copy-paste into a text file to have handy:
Quote:#IAmMarcantonioColonna
The Dictator Pope, by Marcantonio Colonna 
Book link: https://tinyurl.com/yaogaadk

Francis Shows His Hand: https://t.co/Hv4C61M1zo
Amoris Laetitia destroys moral theology: https://t.co/l36Kc048bj
Pope honors abortion-pusher: https://tinyurl.com/y7qqda2j

Consider including the following in your posts: @antoniospadaro @Pontifex 
Please be pro-active about this. Post this hashtag in response to posts made by Pope Francis, Antonio Spadaro (consultor to the Pontifical Council for Culture and Secretariat for Communication), EWTN, Catholic Answers, Catholics with a big Twitter following, etc., and also in replies to Catholic matters being discussed in more secular sorts of threads. Follow people with a large audience and respond, when relevant, to their tweets, using that hashtag.
It's way past time we Catholics get LOUD about defending the Faith! We must do all we can to let Pope Francis know that we will not sit silently while the Catholic religion is turned into something unrecognizable. 
---
Sample memes: