---
Re: Newt - Vincentius - 01-30-2012

If Newt had true sorrow for his past and has asked for forgiveness, then why do we have to keep looking into the depthness of his soul?  The greatest saints the Church has brought up were greater sinners and make Newt's infidelities., etc. look like childplay. 

Why don't we ask about Romney?  Because he has been  married to the same woman for 42 years and seems not to have any scandals attached to him?  What about the very first law of the land when he was governor of MA?  Is he more moral because of his long time marrriage than his act of passing a law that allowed same sex marriage which is now spreading like wildfire throughout the country?  Romney has to answer to God for every homo and lesbo that ever contracted marriage to the end of time.  Romney won't be responsible for the sodomites who eschew marriage; only those who do.

Why send another non-Christian to the White House?  Vote Catholic, even if in your heart this Catholic is still a sinner whom God has never forgiven.  Do we know that for sure about the forgibeness?


---
Re: Newt - Petertherock - 01-30-2012

At least Newt would get rid of the Obama contraceptive ruling...

http://www.huffingtonpost.com/2012/01/30/newt-gingrich-obama-contraception-rule_n_1241655.html?icid=maing-grid10%7Chtmlws-main-bb%7Cdl4%7Csec3_lnk2%26pLid%3D131198



Newt Gingrich Condemns Obama Administration's Contraception Rule, Calls It A 'War Against Religion'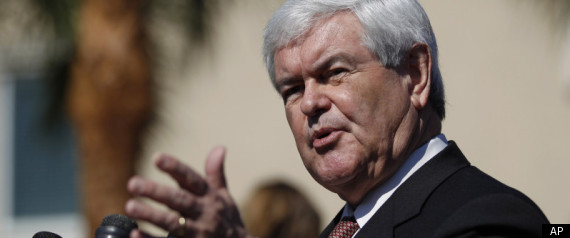 JACKSONVILLE, Fla. -- At a Monday morning rally at the Hyatt Regency Riverfront in Jacksonville, former House Speaker Newt Gingrich sharply condemned the Obama administration's recent decision not to exempt religiously-affiliated groups from a rule requiring employers to offer birth control coverage to the women they employ.

"The Obama administration is engaged in a war against religion," he said.

The new rule stems straight from the Affordable Care Act. Most women employed in the U.S. will have the cost of their birth control covered with no co-pay, effective Aug. 1.

The rule always exempted employers such as churches and other places of worship whose primary purpose is imparting religious beliefs. But many religious groups argued it was too narrow and should apply to religious-affiliated organizations as well. The Obama administration disagreed, but it gave these employers an extra year to comply with the new law.

"Their decision last week that they would impose on every Catholic institution, every Jewish institution, every Protestant institution, the Obamacare standard of what you have to buy as insurance is a direct violation of freedom and religion -- an example of the increasingly dictatorial attitude of this administration," Gingrich said.

"Cardinal Timothy Dolan has said this is a direct assault of freedom of religion in America and a complete violation of our First Amendment rights," he added, referencing objections of the new rule by the Catholic Church, of which Gingrich is a member. "On the first day that I am president, I will issue an executive order repealing every aspect of infringement upon religious liberties in America at that moment."

Dolan is currently archbishop of New York and president of the U.S. Conference of Catholic Bishops. He will soon be elevated to cardinal. In the wake of the Obama administration's decision on the rule, Dolan has said he felt "a sense of personal disappointment."

"I had to share with him that I was terribly let down, disappointed and disturbed, and it seemed the news he had given me was difficult to square with the confidence I had felt in November," Dolan said of a phone conversation he had with the president on the issue.

On issues of women's reproductive rights, Gingrich supports defunding Planned Parenthood and has said he would back a federal personhood amendment defining life at conception.


---
Re: Newt - sarahraphael - 01-30-2012


(01-29-2012, 04:18 PM)

knittycat Wrote: Every time I see this thread this is what I think of:


Thanks, that is EXACTLY what I thought this thread would be about.  :LOL:


---