Quote:.....Can you provide some source or evidence as to the communion rail cloth's purpose being to catch falling particles of the sacred hosts? This seems a bizarre notion to me, ive never heard of it, or read anything about it. It seems completely impractical, note how on the paten the particles are fairly visible and it requires very little purification. (of course on the sacred linens they need not be visible)
It seems much more logical it is used for the above mentioned purpose - to prevent the sacred hosts from dropping to the ground.
In fact the more you think about it, its actually practically speaking impossible for it to be used for this purpose, i.e if the communicant has to hold the cloth under his chin, or even just hold it underneath with their hands, such particles would naturally fall by gravity to the ground below the rail the moment the communicant drops the cloth, ive always been taught it was for catching the sacred hosts, not for the sacred particles, I mean such care is taken by the Priest with the sacred linens in their folding and moving, hardly anywhere close to the way a cloth at the communion rail is treated.

Still if you provide evidence, Ill accept it.
You'll find the following article informative:
http://www.geocities.com/pelicanlara/ans...72002.html
The altar rail cloth is essentially a development of the ancient domenical.  When used properly, a stray particle should fall onto the cloth over the top of the rail.  The communicant should not have his mouth behind the rail.  However, my friend who has studied rubrics extensively also says that the acolytes were to assist at the reception by taking full control of the cloth and following a certain procedure.  Here is a picture from a Dominican liturgy in 1958 showing the concept.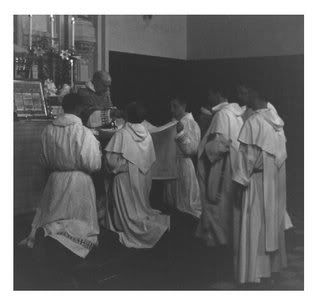 It seems that the modern use of the paten at reception of communion starting around the 1920s was done to counteract sloppy handling of the altar rail cloth.