I love uncovering trasures of the Catholic past. In today's column, I collected some photos of oversized chant books, lecterns, and pulpits, and wrote some commentary on how they were used and what they represent. I wish more trad churches would have these today.
The article link:
Two lost arts: singing from oversized chant books, and using lecterns
Before the relatively recent introduction of individual music books, these giant books were published to be sung from by the entire choir. The early music group Ensemble Organum contends that singing from these, rather than from everyone singing from their own Libers, etc., fundamentally changes the way that plainchant is sung.
I also talk a bit about this eagle lectern which was used, for a time, at Pugin's Cathedral of Saint Chad, Birmingham, until it somehow found its way to the Met. I assume it was sold by Vatican II vandals. "A great many lecterns of the later Middle Ages, especially the ones used for reading the Gospels, were fashioned in the shape of eagles. The eagle was said to be the bird that flew the highest, and therefore the closest to heaven. The eagle was also supposed to have been able to gaze directly into the bright light of the sun without harm. The faithful Christian, likewise, could stare at the sight of the deacon proclaiming the Gospel from this eagle-shaped lectern without flinching."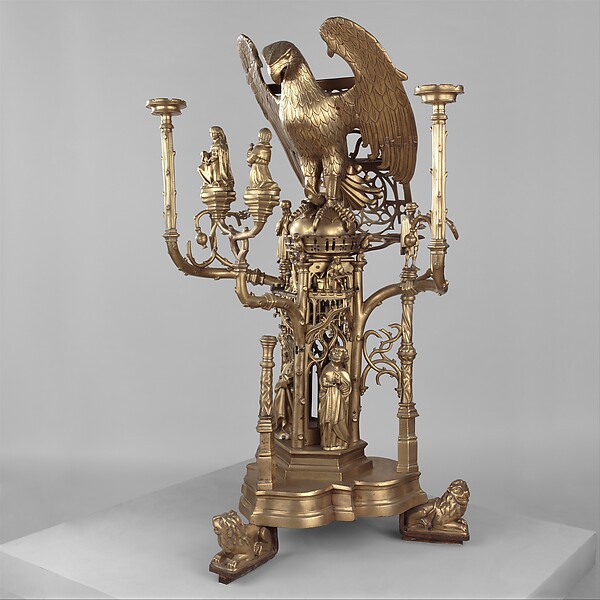 The jube (rood loft) of the church of Saint-Étienne-du-Mont. 'The name "jube" comes from the Mass. Before the deacon sings the Gospel, he approaches the celebrant and asks for his blessing with the words
jube, domne, benedicere
("pray, sir, a blessing").'
At the end of the article, I posted an anecdote about an assassination in that church, which I find very fascinating.
'In 1857, the Archbishop of Paris, Marie-Dominique-Auguste Sibour (who also witnessed the marriage of Napoleon's nephew, Napoleon III), was murdered by an excommunicated priest who, in the act, cried out "Down with the goddesses!". The priest, Jean-Louis Verger, killed the Archbishop for promulgating the dogma of the Immaculate Conception in Paris, which had been declared by the Pope just a few years before. I believe that would make Archbishop Sibour the only person ever to have been martyred specifically over a dogma declared
ex cathedra
by the Pope.'