My opinion on J23 is that he was a hopeless optimist.  He just couldn't imagine that things would go off the rails.  In retrospect, it was hard to see that it
wouldn't
.  J23 was elected in a time when the modernists and conservatives (for lack of a better term) were fighting for control.
It's my opinion that he was elected to be a "placeholder pope", an old guy that would be fat and affable, change nothing and die soon so that the factions among cardinals could have a little more time to hash out their arguments.
But John XXIII seemed optimistic and oblivious to it all.  Reckless optimism.  The 1960's were like that.  He was, sadly and bittersweetly, just a product of his time.
ASIDE:
It reminds me of this thread (
http://catholicforum.fisheaters.com/inde...180.0.html
) from 2009, where I wrote about Pius XII in response to this photo: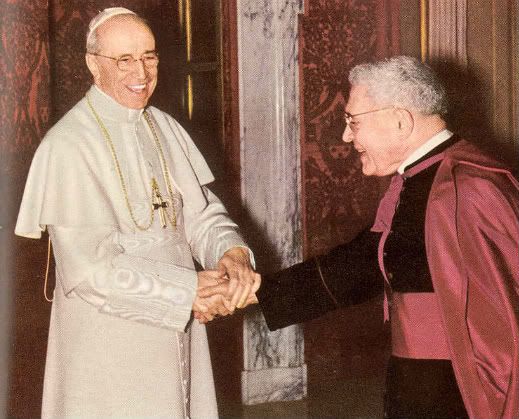 (02-02-2009, 12:19 PM)

WhollyRoaminCatholic Wrote: This photo is actually kind of sad.

Poor Pius XII.  Innocently unaware that the man whose hand he's shaking, Domenico Cardinal Tardini will convince Bl. Pope John XXIII to convene the Council and that P12 will be known as the last full pope of tradition.  Msgr. Tardini wanted to retire from the Vatican and spend the last days of his failing health working with orphan boys in a Catholic boarding school; Pius insisted that he rather take the red hat of the Cardinal and serve as the Vatican co-Secretary of State.  The pope simply would not take "no" for an answer-- Tardini was one of his best friends and most trusted advisors.  That was 1952.

When Pope John XXIII assumed the throne in 1958, J23 asked Tardini to stay as the full Secretary of State.  Again, Tardini tried to refuse, citing his poor health and lack of energy.  John, like his predecessor, would not take no for an answer.  In January of 1959, John XXIII approached Card. Tardini to mention that he was considering convening an Ecumenical Council, Tardini replied enthusiastically that he should-- J23 would later say that this moment was when he was fully convinced.  Within the month, Pope John XXIII announced his intent to call the Second Vatican Council.

Blissful ignorance is so optimistic.  This photo of two men, so happy.  Blissful.

I'm coming to the conclusion that "invincible ignorance" is a gift that is too often stolen from us.