04-22-2012, 03:13 PM (This post was last modified: 04-22-2012, 03:16 PM by JacafamalaRedux.)
(04-21-2012, 09:20 PM)

Joamy Wrote:

(04-21-2012, 08:39 PM)

Jacafamala Wrote: Flip Flop. It's put out by the folks who make Fisheye. Not bad 'tall. Good with a steak.





Barefoot wines are good (and cheap).  The Moscato - I could drink way too much of. 



Oh yes, Joamy; you're right of course! I meant barefoot. But Fish eye is the other perienial favorite around here.  Although Moscato is one I've never tried. We go with the Cabernet and Merlot. Perhaps we'll need to pick up a bottle of that Moscato sometime. I like to think of them a reasonably priced. Cheap conjures immages like........Mad Dog.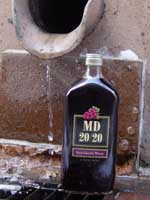 Oh my Jesus, I surrender myself to you. Take care of everything.--Fr Dolindo Ruotolo
Persevere..Eucharist, Holy Rosary, Brown Scapular, Confession. You will win.