http://www.fisheaters.com/novenas.html#face
Novena in Honor of the Most Holy Face of Jesus
This novena prayer may be said at any time, but especially in the nine days leading up to the Feast of the Holy Face on Shrove Tuesday
"I firmly wish that my face reflecting the intimate pains of my soul, the suffering and love of my heart, be more honored! Whoever gazes upon me already consoles me."
(Our Lord Jesus Christ to Sister Pierina)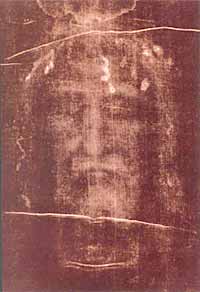 Novena to the Holy Face
O Lord Jesus Christ, in presenting ourselves before Thine adorable Face,
to ask of Thee the graces of which we stand in most need, we beseech Thee above all,
to grant us that interior disposition of never refusing at any time to what Thou requirest of us by Thy holy commandments and divine inspirations. Amen.
O Good Jesus, who hadst said, "Ask and you shall receive, seek and ye shall find, knock and it shall be opened to you,"
grant us O Lord, that faith which obtains all, or supply in us what may be deficient;
grant us, by the pure effect of Thy charity, and for Thine eternal glory, the graces which we need and which we look from Thine infinite mercy. Amen.
Be merciful to us, O my God, and reject not our prayers, when amid our afflictions,
we call upon Thy Holy Name and seek with love and confidence Thine adorable Face. Amen.
O Almighty and Eternal God, look upon the Face of Thy Son Jesus.
We present It to Thee with confidence to implore Thy pardon.
The All-Merciful Advocate opens His mouth to plead our cause; hearken to His cries,
behold His tears, O God, and through His infinite merits, hearken to Him when He intercedes for us poor miserable sinners. Amen.
Adorable Face of Jesus, my only love, my light, and my life, grant that I may know Thee,
love Thee and serve Thee alone, that I may live with Thee, of Thee, by Thee and for Thee. Amen.
Eternal Father, I offer Thee the adorable Face of Thy Beloved Son for the honor and glory of Thy Name,
for the conversion of sinners and the salvation of the dying.
O Divine Jesus, through Thy Face and Name, save us. Our Hope is in the virtue of Thy Holy Name! Amen.
++++++++++++++++++++++++++++++
Another
PRAYER (novena) OF ST. THERESA OF JESUS [liSIEUX]
TO THE HOLY FACE
O Jesus, Who in Thy bitter Passion didst become "the most abject of men, a man of sorrows,"
I venerate Thy Sacred Face whereon there once did shine the beauty and sweetness of the Godhead;
but now it has become for me as if it were the face of a leper!
Nevertheless, under those disfigured features, I recognize Thy infinite Love
and I am consumed with with the desire to love Thee and make Thee loved by all men.
The tears which well abundantly in Thy sacred eyes appear to me as so many precious pearls that I love to gather up,
in order to purchase the souls of poor sinners by means of their infinite value.
O Jesus, Whose adorable Face ravishes my heart,
I implore Thee to fix deep within me Thy Divine Image and to set me on fire with Thy Love,
that I may be found worthy to come to the contemplation of Thy glorious Face in Heaven. Amen.
HOLY FACE PRAYER FOR SINNERS
by St. Therese of Lisieux
ETERNAL FATHER, since Thou hast given me for my inheritance the Adorable Face of Thy Divine Son,
I offer that face to Thee and I beg Thee, in exchange for this coin of infinite value,
to forget the ingratitude of souls dedicated to Thee and to pardon all poor sinners.
A longer novena here:
http://www.holyface.org.uk/content/holyfacenovena.htm
All about The Holy Face Devotion here:
www.catholictradition.org/Christ/holy-face.htm
and
www.holyface.org.uk/content/holyfacenovena.htm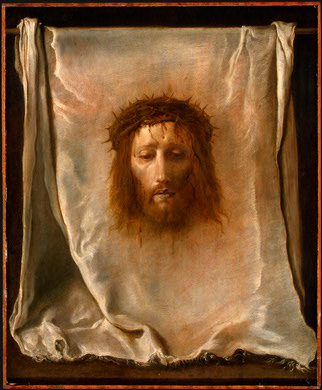 THE GOLDEN ARROW PRAYER
MAY THE MOST HOLY, MOST SACRED, MOST ADORABLE,
MOST INCOMPREHENSIBLE AND UNUTTERABLE NAME OF GOD
BE ALWAYS PRAISED, BLESSED, LOVED, ADORED AND GLORIFIED,
IN HEAVEN, ON EARTH AND UNDER THE EARTH, BY ALL THE CREATURES OF GOD,
AND BY THE SACRED HEART OF OUR LORD JESUS CHRIST,
IN THE MOST HOLY SACRAMENT OF THE ALTAR. AMEN.
After receiving this prayer, Sister Mary of St. Peter was given a vision
in which she saw the Sacred Heart of Jesus delightfully wounded by this "Go/den Arrow"
as torrents of graces streamed from It for the conversion of sinners.
REPARATION PRAYER
Eternal Father, turn away Thy angry gaze from our guilty people whose face has become unsightly in Thine eyes.
Look instead upon the Face of Thy Beloved Son, for this is the Face of Him in Whom Thou art well pleased.
We now offer Thee this Holy Face, covered with shame and disfigured by bloody bruises in reparation
for the crimes of our age in order to appease Thine anger, justly provoked against us.
Because Thy Divine Son, our Redeemer, has taken upon His Head all the sins of His members,
that they might be spared, we now beg of Thee, Eternal Father, to grant us mercy. AMEN.
AN ASPIRATION TO THE ETERNAL FATHER
TO BE FREQUENTLY RECITED DURING THE DAY
ETERNAL FATHER, we offer You the Holy Face of Jesus,
covered with blood, sweat, dust and spittle, in reparation for the crimes of communists,
blasphemers, and for the profaners of the Holy Name and of the Holy Day. AMEN.
PRAYER TO REPRODUCE
THE IMAGE OF GOD IN OUR SOULS
Our Lord told Sister Mary ot St. Peter that the Image ot His Holy Face is like a Divine Stamp which,
it applied to souls, through prayer, has the power of imprinting anew within them the Image ot God.
I SALUTE THEE, I ADORE THEE, AND I LOVE THEE,
OH ADORABLE FACE OF MY BELOVED JESUS,
AS THE NOBLE STAMP OF DIVINITY!
COMPLETELY SURRENDERING MY SOUL TO THEE,
I MOST HUMBLY BEG THEE TO STAMP THIS SEAL UPON US ALL,
SO THAT "THE IMAGE OF GOD MAY ONCE MORE BE REPRODUCED BY ITS IMPRINT IN OUR SOULS. AMEN.
+++++++++++++++++++++++++++++++++++++++++