Speculations Run Wild as the World Witnesses Signs in Heaven and on Earth
As the world pounders the significance of Pope Benedict XVI's resignation, a spectacular celestial show is witnessed by millions as a large meteor streaks across Russia before exploding in a fireball brighter than the sun.
As most know, meteorite strikes are not that unusual, but this particular one takes on a whole new dimension when one considers the way the images of it have been flashed across the world so widely and so quickly. And, certainly, no unanticipated meteorite strike in world history that has caused this kind of damage to infrastructure and injuries to people has been witness by so many.
Image: Large meteor streaks across Russia skies
Now add in the fact that this amazing celestial event occurred right after the church-shaking announcement that the Pope was abdicating his position as the Vicar of Christ and I think you would agree that these two events might deserve a closer look.
Now here's where things get more interesting. We all know that Pope Benedict XVI called upon the name of Pope Celestine V for precedence in his decision to retire as Pope, but what most people don't know is that Celestine's name is derived from the Latin word for celestial.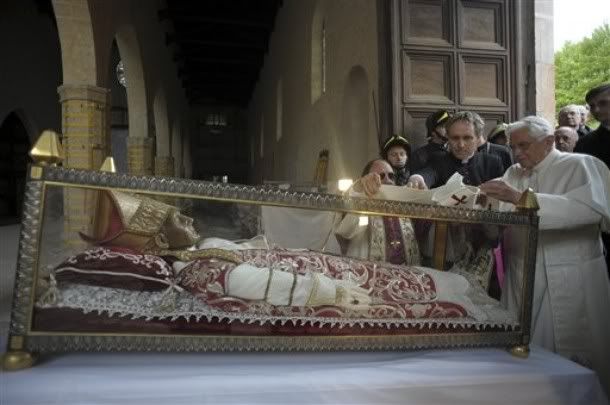 Image: Pope Benedict's pilgrimage to the tomb of Pope Celestine V
So what we literally have here are TWO highly unusual CELESTIAL events, one which has shaken the Church and one which has shaken Russia.  Now there is only one event in recent church history that easily ties these two things together and that, as we all know, is Fatima and the third secret, which is all about celestial signs and Russia.
Now I don't pretend to know if any of this has any real significance when it come to the future of the Church, and therefore the world, but what I do know is what value it does have will be in how we react to it. Does it strengthen our belief in Christ's one true Church? Does it motivate us to be more diligent in the practice of our faith?  These are the questions I ask myself and, ultimately, the only real value of signs in heaven and on earth is that of the salvation of souls.
End