http://remnantnewspaper.com/web/index.ph...r-as-mercy
Murder as Mercy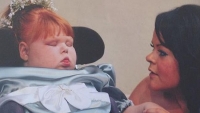 Nancy Fitzmaurice
Many of us were shocked to read the news headline, Mother Wins Case to Kill Her Disabled Daughter, which made the rounds just days ago. As LifeNews reported on October 29th:
Quote:Two and a half years ago, Dr. Phil advocated for the mercy killing of people with disabilities. Well, Dr. Phil would be happy to know that his dream has now become a reality — one mother successfully petitioned the court to kill her severely disabled daughter.

Nancy Fitzmaurice, born blind with hydrocephalus, meningitis and septicaemia, could not walk, talk, eat or drink, the Mirror reported.

Her health was so poor she required 24-hour care and was fed, watered and medicated by tube at London's Great Ormand Street Hospital. Her health deteriorated and as she grew she would scream in agony for hours despite being given morphine and ketamine.

Her mother, Charlotte Fitzmaurice Wise, knew the pain her daughter was suffering was too much for the 12-year-old to bear. She deserved to be at peace and had the right to die, knew her heartbroken mother, who had given up work as a nurse to be with her.

…"The light from her eyes is now gone and is replaced with fear and a longing to be at peace.

"Today I am appealing to you for Nancy as I truly believe she has endured enough. For me to say that breaks my heart.

…Her application was granted immediately, setting a precedent. It is the first time a child breathing on her own, not on life support and not suffering a terminal illness has been allowed to die in the UK.

The judge praised Wise for her "love and devotion" towards her daughter… which was shown by her fight to kill Nancy. The judge ruled that she had no quality of life anymore, and therefore, she should be killed by refusing to give her any food or water until she died. It took her 14 days to die…
Upon reading this story, I felt a strong need to respond. My hope was to write a piece that exposed the twisted logic of our age, which cloaks murder in the virtuous trappings of love and mercy. I wanted to be able to explain how modern society could come to the point where killing a disabled girl is an acceptable practice. Then I realized that this article had already been written….in 1978.
It was written by none other than Dr. John Senior in the first chapter of his magnum opus, The Death of Christian Culture. This book is, in my humble opinion, the best diagnosis of what is wrong with our age that has ever been written. In it, Dr. Senior analyzes an astonishingly similar case to that of Nancy, above, which took place over 36 years ago.
Read the rest
HERE
.