St. Pancras, the patron saint of oaths and promises.
St. Pancras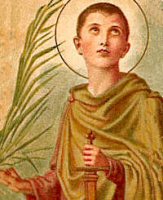 Pancratius was the descendant of a noble Phrygian family. As a youth of fourteen, he came to Rome while Diocletian and Maximian were in power (about 304). He was baptized by the Pope and given instructions in the Christian religion. Arrested for his action, he steadfastly refused to sacrifice to the pagan gods and was condemned to death. With manly courage, he bared his neck for the sword and received the martyr's crown. During the night his body was removed by the pious matron Octavilla, anointed with sweet smelling balsam and interred on the Via Aurelia.
Pancratius is the patron saint of fidelity to oaths. The basilica that Pope Symmachus erected over his remains about the year 500 later became a station church (since 1798 his relics have been lost). On the first Sunday after Easter the saint exhorted the catechumens gathered at his station church to remain loyal to their baptismal vows. The saint warns us to proceed slowly and prudently before taking an oath or vow. But once our word is given we must remain true to our pledge, true unto death itself, whether it concerns baptismal vows, ordination vows, profession vows, or marriage vows.
https://www.catholicculture.org/culture/...2021-05-12