Okay, this is outrageaous!
I hate to post this but y'all must know what is going on and we need to DO SOMETHING!
Ann Barnard pointed out at her blog:
https://www.barnhardt.biz/2017/12/22/vat...ave-bewbs/
THEY MADE MARY A TRANSVESTITE!
and
Vatican GayTivity: Um, the Flying Baby Angel Heads Have… BEWBS.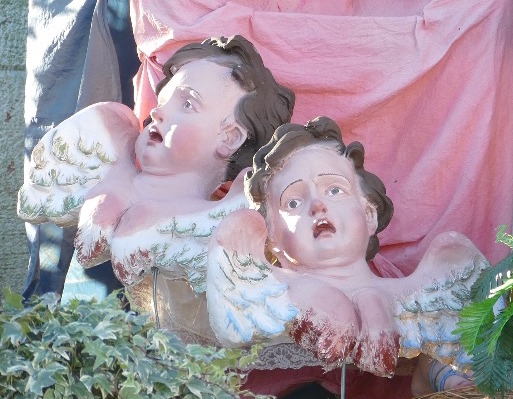 From Ann Barnardt:
Close-up of the two winged angels at the foot of the Blessed Virgin in the Vatican Nativity Scene. Note the cleavage, and the rouged coloring of the "pushed-up" bosoms.  There are two other winged angels, like this, with the same protruding "bosoms" surrounding the Holy Family.
If you look at the faces of the baby angels, first, they have extremely disturbing facial expressions, and second it seems to me that they are little boy baby angels.  So, yes, it seems that not only is this a winking nod to the transvestites (and the word folks is TRANSVESTITE, not transsexual – there is no such thing as a "transsexual" because no one can change their sex, the entire notion is utterly irrational and detached from reality), and it also definitely enters into the domain of pedophilia and the sexualization of small children.  And yes, I know that some people will look at that and say that the "bosoms" are a double-entendre of sorts for butt cheeks, which at this point, I wouldn't put past these perverts.
Remember, ALL SODOMITES ARE, BY DEFINITION, A CLEAR AND PRESENT DANGER TO CHILDREN. INCLUDING FIRST-DEGREE BLOOD RELATIVES. PERIOD.
So, once again, this monstrosity needs to be torn down.  A group of Catholic men need to muster – preferably in a group of at least one thousand, notify the Italian police and the Swiss Guards that they will be arriving at St. Peter's Square in the wee hours of the morning so as not to disrupt traffic, and that they will quietly and quickly dismantle this blasphemous manifestation of the satanic powers now occupying the Vatican, and then all kneel and pray the Rosary in reparation to the Immaculate Heart of Mary and the Sacred Heart of Jesus, and then leave. And tell them that they are all, every one, willing to be arrested.
But, of course, no one will do this, because this would require virility and potency, and a willingness to suffer.  Better to just let the God-hating sex perverts have their blasphemous fun and not be inconvenienced ourselves, right?