Fratres,
Imagine, if you will, that you are a young man -- around 27 -- and you have come from Seminary to an archdiocese, been ordained, and you have now been appointed Pastor for a small, urban parish. The Parishioners are, by and large, of the baby-boomer generation, but there are a reasonable amount of young people (approximately 20% of your regulars are young families). The Pastors over the last decades have been exactly what you might have expected of a Priest who was ordained in 80s -- though they have not been
enemies
of tradition per se, they have been caught up in the craze of social justice. 
Altar girls and female lectors are common sights on Sunday mornings and throughout the week, an older man serves Mass; the sanctuary has projector screens; the music on Sundays is a series of poorly-written Talbot-esque hymns (though the choirmaster tries, bless him, to lend these songs some gravitas by switching his keyboard to the church organ setting and using four-part harmonies in the choir -- he is rather talented, but his taste is sorely lacking); incense is never burned except at Christmas and Easter; and the vestments are all plain, Gothic chasubles with relatively little ornament and almost uniquely polyester (the old ones exist, but nobody knows about them).
In addition to the apparent problems, it is clear that the majority of the faithful have been really poorly catechized. As with many parishes, the idea of "social justice" have been implemented in full -- which is to say that nobody does anything except "raise awareness" and ask for money. There is dubious belief in the True Presence -- as evidenced by the lack of penance. The Parish Councils often bicker back and forth and there is serious division among the faithful. A small majority of the faithful are traditional -- or at least open to it -- and have been living in a wasteland for the last few decades (though many of them have scarcely lived so long). 
The good news is: you have inherited a beautiful old, stone Church, built by Irish stock in your locale. The Bishop is sympathetic with traditional leanings but is not prepared to come out and mandate it; as such, he is prepared to give you a (mostly) carte-blanche when it comes to implementing changes -- though he did caution you against causing too many waves. You will have to be careful about what you do, but you will be able to do what's right. The High Altar is still in the Sanctuary (the altar rail is even still in place!), but there is a wooden "table altar" there too. 
Here is the outside of your church: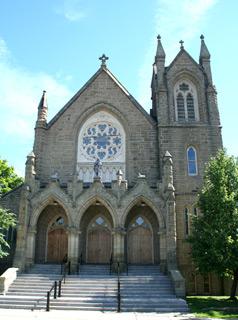 And here is its inside:
And the Altar (pretend there is a High Altar there still instead of a plant):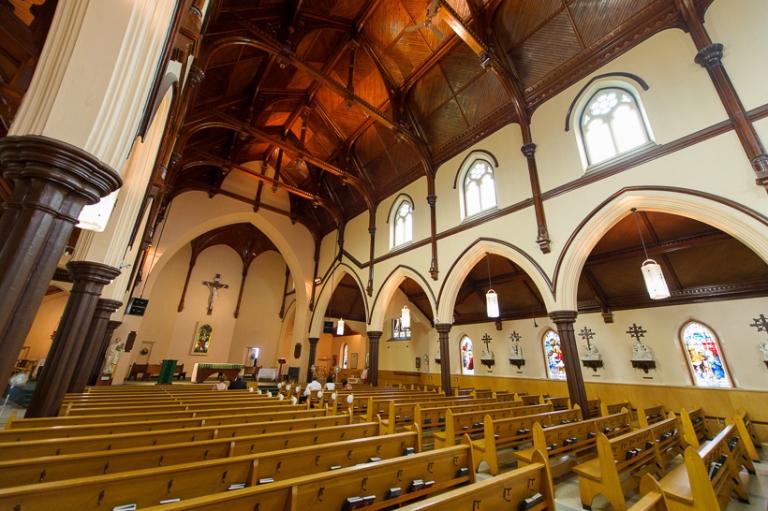 You have a beautiful, matching rectory next door and a really nice old graveyard a few blocks down that belongs to your parish.
So here's the question: what do you do to bring the faithful back into the fold of tradition? How do you change things to give some respite to those more traditional parishioners? It's a fun what-if.