Hello brothers and sisters i hope you are all doing well
The other day i was reminded of Fatima. U know my olds are Portuguese so i know the events very well. My personal struggle has always been with the idea that the apparitions may be a deception as the evil one masquerades as an angel of light...
But Sister Lucia was told 3 secrets. The first was a vision of hell, i forget the second but the third secret has never been fully revealed to us yet...
In fact the first pope that received the secret was so shocked he kind of locked it up. And ever pope after him also chose not to reveal it...
The feeling is that this 3rd secret is something very major, its so big that the Church has been afraid to tell us...
Some people may not know that Sister Lucia had more visits from Our Lady after October 13 1917...
In one apparition Our Lady came to Lucia... She told her that the Catholic Church had to consecrate Russia to her immaculate heart. 
So Lucia relayed the revelation to the Church...
Nothing happened and Our Lady came again a few years later... 
She told Lucia that the RCC must

consecrate 

Russia to her immaculate heart or fall the same as France did...
She said if this is not done, the evils of communism will take over the whole world... 

The consecration was never done, pope after pope...
Im not too sure but i think it would of required the cooperation of Russia... If so that moment would of been at the fall of the Soviet union when the Church was allowed to reenter Russia and establish diocese...
Fast forward 2021... What do u see... I see communism strangling the west, democracy, Church, God. 
Not just communism but global communism... Left, right, blue, red, Trump, Biden... Their all false prophets i believe
So then... Is this it? Are we witnessing this prophecy unfold right before our eyes???
The BVM made a reference to Frances downfall... Well... 
In the 17th century Sister Margaret Mary Alacoque had apparition of Christ, approved by the Vatican...
Jesus told Mary that King Louis of France was to consecrate France to His sacred heart... However this never happened...
Then on the exact same day, 100 years later, the king of France was sacked and the rest is history, known as the French revolution, the enlightenment period. 
A different path was taken onto a different direction, away from God
I just went to try and find the date of this revelation, 1929, and bumped into someone who explains it very well in the first 5 minutes... 
After 5 minutes he talks about this same guy that i listened to a few months ago, Yuri Bezmanov, former KGB defected to the USA...
For anyone who is interested in how the west succumb to this Marxist ideology then there is no other lecture that ive seen that can beat this one... Its so good ive just watched it again... Its sooo prophetic, its chilling
When the Soviet Union "collapsed" in the late 80s everyone thought that democracy had beaten
communism
, they thought that communism had gone. But the Russian KGB were using an a tactic that the USA never used
, Subversion... Taking over without force, slowly over time, innocuously... He breaks it down into 4 stages;
Demoralization
, Destabilization, Crisis and Normalization... A fascinating lecture from the 80's that is relevant now... There is also an interview with Yuri which i highly recommend...
If your interested in the
psychology
 of what is happening in our world now then listen to Yuri...
I just finished watching it and wow... After all that ideological, political talk guess what the answer is in the very end... GOD
Nikita Khrushchev was the president of the Soviet Union from 1953 and 1964. In my opinion he was the most powerful speaker of the 20th century... He would mock America, make threats in UN speeches...
Pointing finger
Punching his fist in the air
Even slamming his shoe in the table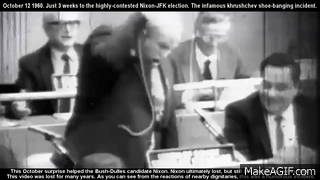 He would say things like your children's children will be communists.... Capitalism will fall without a shot being fired and other revealing statements...
I think
Sister
 Lucia was right... I think Nossa Senhora de Fatima was right...
Lucia said that she never saw Nossa Senhora smile... She was always sad and she could feel her pain and anguish as more people were
turning away
 from God... 
A mother who is anxious, worried,
concerned
FAITH BEGINS AT THE EDGE OF UNDERSTANDING