Once you find a Sunday, or if you're seven times luckier, a daily home at a church offering the Holy Sacrifice according to the Ordus Veto/ "Tridentine"/ Mass of St. Gregory the Great/ 1962 Roman Missal/ Mass of "Pope John XXIII"/ Extraordinary Form/ Traditional Latin Mass (TLM), you may want to purchase a sacramental, a holy object to deepen your "active participation" as you assist the Sacrifice of the Mass. As you can see by those various monikers the service itself goes by, complications may likewise follow as to in which "hand missal" to invest. This compact compendium of the prayers common to every service as well as those differentiating each day's commemoration will be what you'd bring to take you through any Mass. Not to be confused with the priest's "Roman Missal" used on his altar, which is heftier, more formidable for us as laity, and entirely in Latin. For starters, absolute beginners, and even some experienced on the TLM road, rely upon what's nicknamed "the red booklet," which for us will be as if training wheels."

That will customarily be available for use in the sanctuary only, gratis, stacked up in the vestibule as you enter, with a weekly supplement sheet showing the particular readings for that Sunday (or perhaps feast or holy day). You can print out or assemble your own version, too, at Extraordinaryform.org. This fine site provides templates for various alternative rites, large print Sunday editions, cardboard handbook covers, and some Spanish versions. By the way, at my nearly all Spanish-speaking FSSP chapel there's also a white-covered Latin-Espaņol booklet.

Sites such as the above provide further assistance. Under its Catechesis side bar, you can find the TLM text, a soundtrack of what the prayers which you will say "should sound like in Latin," and a brief pdf explanation of ten obvious differences "likely to be observed by someone new" to the TLM vs. the "Mass of Paul VI (Ordinary Form)." As well as pdf's of presentations for high school students preparing them for a TLM and then following up with a history of the Mass.

Your post-Vatican II parish calendar will not indicate the older liturgical cycle. You'll need to look up the TLM schedule (on a site as that above or for a Latin Mass parish) and figure out, say, if it's the 23rd Sunday after Pentecost, rather than, the "Ordinary Form" of the Mass celebrated the 33rd Sunday in Ordinary Time. One of the delights of the TLM is following a pattern of our ancestors, when Septuagesima, Sexagesima, Laetare Sunday, Ember Days, and hallowed markers of the seasons continue to color our vivid Catholic chronicle, not a stark "ordinary" time.

On sites such as Propria.org, you can see what "Feria" or service may occur during each week, a saint's day, a commemoration, or maybe a requiem Mass, a nuptial marriage, or a local feast.

Furthermore, you can look up or print out the Propers. These prayers vary each day. You may not find weekdays listed online; that's another reason to opt for a "hand missal" if you plan to attend more than Sundays, or if you wish to make a "spiritual Communion" at home or on the road by reading the service yourself if you cannot attend Mass in person. The Propers tally 12.

Any missal clearly shows you where each of the Propers requires you to turn to that section. Flipping back and forth may seem annoying, but this rhythm for the most part will become second nature after a few Masses. Certain missals vary slightly in how they insert the variations of the sacrificial theme, so more about that elsewhere. For now, let's glance at the dozen texts.

The Introit from the Psalms naturally "introduces" the Mass, near its beginning. The Collect follows not long after the Kyrie in the Canon, and this leads into the Lesson from the Old Testament, a Gradual from the Psalms, usually an Alleluia (or in Lent, a Tract), and a Gospel passage for which you will stand. This is proclaimed first in Latin, then in English (and/or another vernacular language if appropriate). After the priest's sermon, the Offertory from a Psalm follows. The next Proper prayer you may not hear, for it's a Secret. This signals the heart of the Eucharistic Sacrifice is near, as the preliminary Mass of the Catechumens concludes.

Not all the Propers may be audible. At any Latin Mass, the priest conventionally recites to himself, or at a chanted "bells and smells" choral High Mass within earshot of the deacon or acolyte servers, but in a larger sanctuary, do not depend upon any amplification beyond natural acoustics. A Low Mass generates silence; a High Mass feature hymns accompanying "bells and smells." This rise and fall of the celebrant's voice, in either form, conveys the Mystery of It all.

A Preface according to, conventionally, the Most Holy Trinity many Sundays will happen during this stage of the service. Other Prefaces usually are included in an extended section tucked into the Canon itself in many missals. However, they may also be gathered into their own chapter.

The Communion Proper from the Gospels precedes the distribution of the Eucharist. Soon after, the Post-communion logically anticipates the dismissal of the Mass and the standard prayers after the Mass, which will appear in the missal after the Canon itself ends. These aren't Propers.

This variety will require you to mark the place where these Propers gather, apart from the Canon of the Mass which is standard for every Low or High Latin Mass. Doing this for the next week or weekday after Mass each time you attend enables you to come to the next service ready to roll. You benefit by looking ahead to the next set of readings, to prepare spiritually and mentally for the upcoming service. Adopt a habit of updating your missal "settings" in advance, so when the Asperges at a High Mass or the Canon of a Low Mass begins, it's all systems go.

That's the basic game plan for the Mass. You can see the scorecard at a Fish Eaters entry for Using and Buying a Missal, a handy roster. Holy Week's a whole other ball of blessed beeswax.

You may ask: why not get along with simply a "red booklet" and save my dough? I waited a while before investing in my two missals. I was unsure that the archdiocesan parish I attended High Mass at on Sunday would continue once the visiting priest ended his tenure. So I put off buying any costly tomes. There's precious few TLMs around where I live, and they have been decreasing rather than increasing. Providence ensured that not only did that nearby(-ish) Mass continue with a new celebrant, but that a Low Mass popped up at a "new" Fraternity of St. Peter chapel a bit more nearby(-ish). That convinced me I'd be safe in saving up for a "sacramental."

There's a benefit to breaking in your own copy. I keep a 1914 "Douai-Rheims" translation of the Bible handed down to me from my grandmother who I never knew. Leather-bound, gilded pages, and imbued with the sensation of fingers having turned its thin pages over decades. I do not open it every day, sure. But it's what I will pass on to my children in turn, and they will hold on to that, I aver, rather than my go-to "modern" translations for study and reflection. Think of this inheritance that you may bestow within the sturdy cover and slightly dog-eared paper that adds up to your own Latin Daily Missal which accompanies your holy passage through this life.




What else does a "hand missal" hold?



Here's how the four leading editions compare and contrast. I own neither the Baronius 1962 nor the Fr. Lasance 1945 version, so I've incorporated material from online to illustrate their features. (Fraternity Publications as an apostolate of the FSSP, kindly lent me their samples for some photos.) I'll integrate their differences and similarities alongside two volumes I have and hold dear, a secondhand St Andrew's 1945 and the reissued Angelus Press 1962 daily missal.

Now, Fish Eaters relies upon a 1962 TLM as its gold standard. So let's begin with Angelus Press and Baronius Press. Their missals are nearly identical in contents. But before we go on, a note on yet another varietal. Both missals adapt the text of a 1958 New Marian Missal of Fr. Sylvester Juergens, S.M. In 2017 this was reprinted by Loreto Publications. It's considerably less expensive than the other two missals which borrow its setup. It's advertised at 4" x 6.5". How durable it is, how crisp the reproduction of the original pages is, or how the fonts look, I cannot say. With neither a copy nor access to a photo of its contents, for me, it's caveat emptor.

My Angelus nearly matches the advertised dimensions for the "Roman Catholic Daily Missal 1962" (so labeled on its cover and title page) of 6.75 x 4.25". Yet, buyer beware again. My copy measured at the cover rather than the pages inside adds up to 7.125" x 4.5 x 1.5. Admittedly, the difference remains minor. But if you want to protect this with a "bible cover" that small fraction will mean you cannot fit this into a smaller product, and this matters. It's difficult to find a snug fit. As for heft, its Amazon entry reports it at 1.2 lbs. although I am not sure if this includes the shipping material. It does require more "handling" to keep it firm in your grip, given its bulk.

It took me a surprisingly long time to find a zippered cover (I cannot afford the custom-fitted leather bespoke designs but maybe you can, as they support apparently good ladies' apostolates) that could handle the Angelus at its irregular larger size, just enough not to fit into a more common missal size that my Christian Prayer one-volume breviary sidles into to "just right." This may be irrelevant. But for those on a budget, these details might influence choice.

Anyhow, size matters. The Angelus may be bigger than can be cradled in one's hand, and as I mentioned, it's larger than the standard breviary. I had to settle for the imitation leather plastic cover, but the Fraternity Publications site at this writing notes the bonded leather upgrade's back as a limited edition. Either way, I'd ferry any hand missal into a dry-dock haven. As Taylor Marshall's November 2018 video about picking one demonstrates, holy water sprinkled at the start of a High Mass or God's own little rain drops can ruin the gilding and soak delicate pages.

I find the size slightly awkward as the book slides about in a case a bit too large due to its dimensions being off the standard just enough. But it's clearly laid out, on creamy paper that is far too tissue thin, to accommodate its 1980 pages. My trad friend who's a graphic designer by profession noted that the Angelus cleanly laid out its freshly digitized fonts compared to the Baronius he had, as an aside. The crisp typeface is readable, although the Latin is smaller than the parallel English. But at least it's entirely bilingual, not always the case as you will soon learn.

Don't get too enamored by sample images you may find online at certain sellers. These may be the Canon itself, adorned with rubrics and marginal commentary on two separate pages. This part of some missals naturally is the most sumptuous. But you will always be burrowing into it for smaller type with the Propers, and even smaller for daily feasts, supplemental prayers, and the like, if less often than the Canon. This may or many not be a deciding factor, but be careful.

Like an auto, little add-on options may seal the deal. Angelus has gilt edges, 5 ribbons, rounded corners, and an attractive end-sheet and binding combination. And a must, sewn not glued pages. Indexed, it aims at an American market, with additional feast days appended as needed.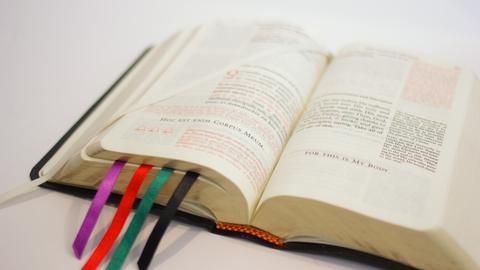 You can see its coverage here; I will not repeat it for reasons of space. It nearly duplicates the Baronius, with a small distinction. This creates for some trads some debate. As Angelus Press explains its mission: "We began as an apostolate of the Society of St. Pius X to provide traditional Catholic literature and doctrine to Americans confused by the changes in the Church after Second Vatican Council and the introduction of the New Mass." They offer free missals to priests learning how to say the TLM as well as those who wish to assist this mass although imprisoned. Their outreach spreads the Faith through the SSPX, and their publications assist it.

Turning to its brotherly (I'd rather not call them competitors, as I echo The Remnant editor Michael Matt's call to "unite the clans") endeavor which attracts many trads, let's peek at Baronius Press. They distribute the Fraternity [as in FSSP] Publications' 1962 Daily Missal priced a bit less than that at Angelus. It weighs in at 38 oz., officially 7.375" × 4.75" × 2.3125". My hands-on measurements include the cover (not the pages) at about 7 1/8" x 4.5" x 2 x 1/8".

Either way, it's bulkier than the Angelus. Baronius boasts genuine leather and a stiffer cover. Embossed subtly with the IHS symbol. Nigglers may quibble over relatively minor differences just like you kick the tires and look under the hood. You can find specs at their websites. The Baronius adds a sixth ribbon, and Pope Benedict's Summorum Pontificarum 2007 motu proprio. This hints that the Baronius issues from those inching a little closer to, well, Vatican jurisdiction.

Those old salts from the Society/SSPX vs. Fraternity/FSSP donnybrook affirm that this latter missal comes with a forward and a 2008 imprimatur from Fabian W. Bruskewitz, Bishop of Lincoln, Nebraska. A colophon note adds that the "text of this missal is based upon the Daily Missal and Liturgical Manual (16th edition) published by Laverty & Sons, Leeds, in 1960 and has been fully revised and updated." The Angelus edition—and I don't mean to spark any flame war—states on its copyright page that it is "based on The Ideal Missal" ed. by Fr. Juergens [1962] which "bore the Nihil Obstat of Arthur J. Scanlan, S.T.D., and the Imprimatur of C. Eykens (Antwerp)." It then credits new commentary from what all appear as credible and approved pre-Vatican II sources. Frankly, as the basics derive from pre-1962 sources in both editions, in my humble opinion, it's adds up to aesthetics or down to which publisher you prefer.

At 2,216 pages the Baronius is thicker, although these two missals have roughly matching height and breadth data. There's slight variations in supplemental prayers and certain Masses, but for consumers, as with most car buyers, neither purchase will leave you with a lemon.

For readability, the missal by Baronius leaves less contrast between white paper and black text. That font is darker and sharper, however. The Angelus I concur as more elegantly laid out, but it is less easily read in the "shade." Both editions scanned and retouched identical illustrations. The Latin is smaller than in the Angelus. Marginal comments are absent within the Canon for the Baronius. But there's compensation with much larger type for that quintessential portion.

You can click here to browse through a few pages. And here to see "digitally retouched" images of the engravings from the Fr. Juergen Belgian originals. Overall, the contents and design of the two missals totals up to a reliably similar delivery of supplemental materials. Their page difference may come down to margins, or, as the Baronius Press site illustrates, font legibility.

As Corpus Christi gets a lot more "press" within the various missals over the past century, British Benedictine Fr. Hugo at his blog provides commentary and photos of the respective layouts for this day. You can contrast and compare many more missals than the 1962 pair, or Fr. Lasance and the St. Andrew. The typefaces and engravings allow you to chart the liturgical changes before and after Vatican II, and his entry chronicles the rise and ebb of the TLM itself.

Let's move on to those two earlier missals. While Fish Eaters "approves" the 1962 editions, as these are standard for either a Fraternity/ Institute of Christ the King/ diocesan-sponsored service or the Society's at their own chapels, both the St. Andrew's and Fr. Lasance predecessors find favor among many TLM participants. As vintage models, they display their own charm. (Likewise Lisa Bergman's lavishly laid out "menu" Treasure and Tradition. This handsomely illustrated and intelligently designed survey will delight all children and inspire any adult. This would be an ideal companion to catechize newcomers, and its rich graphics enhance the diagrams, explanations, and definitions of all portions of a TLM. This combines the aesthetics of a classic, pre-conciliar sensibility with up-to-date interpretations. (Sample Isuuu slides at the link above; this guide is available at bulk pricing and would grace a parish group rallying for a TLM. Thanks to St. Augustine Academy Press for their shared offering of this elegant introduction.)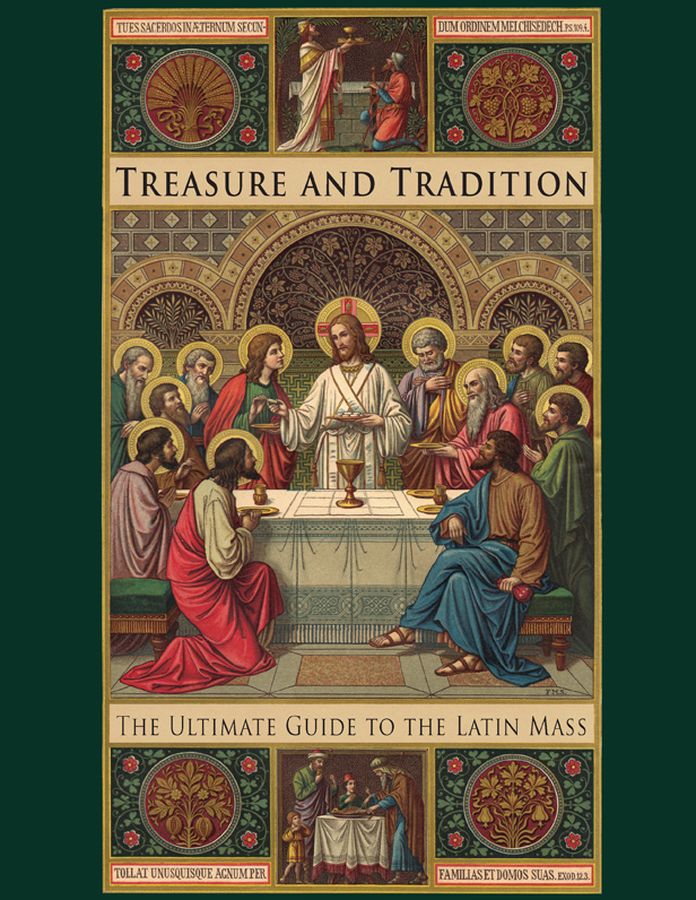 Treasure and Tradition matches the elegiac mood of St. Andrew's Daily Missal (SADM). That represents the Liturgical Movement which from around post-WWI jump-started the Low Countries and Germany's fine-tuning and tinkering which would spark the changes that kick in after WWII, and cut deep into the Vatican II sessions and their 1962 modifications of the TLM.

Coming out of Belgium, the Benedictine Abbey of St. Andre, under the diligent editorship of Dom Gaspar Lefebvre (no relation to Abp. Marcel), labored over a few iterations of this SADM. So, purchasers of used copies need to exercise caution. My copy records its original Imprimatur of 1940, and for the English edition, another by Cardinal Spellman from 1943, with copyright dates of 1940, 1943, and 1945, as well as a brief blurb from one Arthur, Archbishop of Westminster [London] dated 1937 praising its "re-issue." You get my point: WWII dates for once add up as good things; although due to wartime restrictions—Belgians had their own worries—the missal's English second print run had to be done in Quebec and/or by Lohmann in St. Paul.

This may sound like bibliophile trivia. But, trust me, I had to hunt for the SADM I wanted second-hand carefully for the right one. And I still got it half-wrong. A more commonly peddled secondhand 1958 update portends the Council as the formerly somber artwork goes from engravings similar to those of the Fr. Juergens template to less intricate, more generic, and mid-century symbolic drawings, and the amount of Latin diminishes. As a relevant aside, while the handsome St. Andrew's Bible Missal has admirable commentary on the Sunday readings, it serves more as a time-capsule of the hopes during the Vatican Council to encourage lay understanding than a book one can use for its fast-changing 1960s versions. Be sure not to confuse the Daily Latin with the Vatican II editions of the Bible Missal. What surprised me: even in my 1945 copy, there's no Latin for the Collect, Epistle, Gospel, Secret, Postcommunion or many Holy Week passages. Evidently, the vernacular's already dominating portions of the TLM, or the monks figured most people did not mind the loss of a bilingual text for Propers and such.

Note well: I see images below of the SADM—that look just like mine on the outside—on the inside contain bilingual pages throughout, at least as the Sunday Mass is concerned. With entire, larger engravings, whereas my "Regular Edition" (c) 1945 has them severely cropped. It appears that my copy cut out a lot of this scriptural commentary, to a perfunctory weekly snip.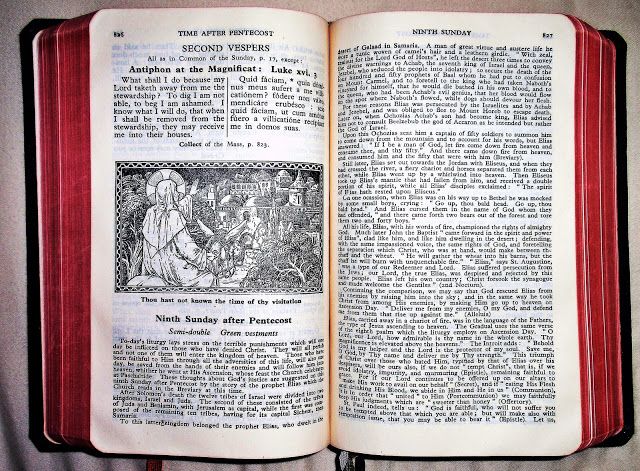 Keep this in mind. For many, doubtless this will not be a deal-breaker. But if like me you like to follow the Latin as much as possible, the SADM's choice to jettison some of it—at least in my edition—to keep its size compact and the "feel" of the volume, which fits my big palm neatly, means sacrifices were made. Perhaps, come to think of it, due to WWII and paper restrictions?

My secondhand copy has a sturdy and "lived in" leather cover. Real-life dimensions taking into account its binding add up to 6.5" by a smidgen over 4" and 1" thick. St. Bonaventure's Press in Montana publishes a conventional cloth-bound one, with gilt or red-tinged pages. Looks like it delivers the entire Latin-English text and "full monty" presentation of art. For its pagination exceeds mine by about 700 pages. And, it lines up at 6.75" x 4.25" x 1.75". While it claims that no changes have been made, an online commentator (on a 2017 YouTube video survey of darn near every hand missal, collected by Paul Flores Photography) asserts that the reprinting takes out the rubrics that direct lay congregational response in the Dialogue Mass, which was an early alteration that the Liturgical Movement got approved decades before Vatican II. These rubrics, in any case, tutor any reader well in comprehending these intricate rituals and their rationales.

I inserted three illustrations of a complete SADM as the publisher does not offer more than the last image. While online browsers of the Baronius and Angelus Press versions can find bloggers and vloggers taking you through their features, the SADM comes, at least for contemporary inquirers, in fewer online representations. It also survives, by the way, in a four-volume boxed set after WWII. Copies of this, some in part, less as the whole, and fewer still in terms of quality and intact bindings, can be procured from secondhand booksellers and on E-Bay. The prices tend to be exorbitant (and this goes for other missals too) and care must be given for ensuring sellers "comprehend" what "Vintage Old Latin Missal" they are hawking. I scored at a bargain a supposed SADM in the current reprint as assured at E-Bay. Only to find it was Fr. James Socius' Novus Ordo 1970 Latin Mass of Paul VI. Handsome. I wish it was what I had wanted. I explained this flaw when claiming reasons for a return and a refund. One advantage of E-Bay.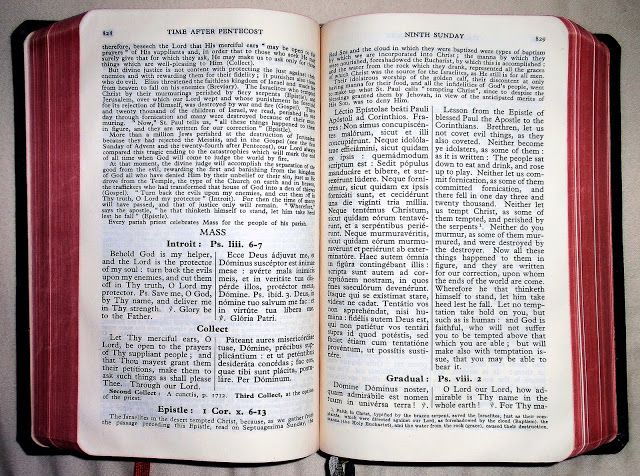 You can see a complete SADM in these samples. (Having conducted this drive-through run, I cannot ascertain precisely when I presume an "original style" luxury model rolled out to the market instead of my 1945 war-privation compact "jeep.") Over 1900 pages reprinted, five ribbons, but far less introductory orientation than other missals. It lacks the personal prayers and devotions, and its index is pretty much geared towards finding saint's days, feasts, and Sundays, with no table of contents. The font shrinks throughout, and its footnotes for all their erudition may be nearly indiscernible for those needing a boost in lighting, vision, or clarity. Still, the balance of commentary for the celebrations throughout the seasonal and Sunday cycles, the beauty of the layout and the illustrations, and the dignified tone throughout may win you over.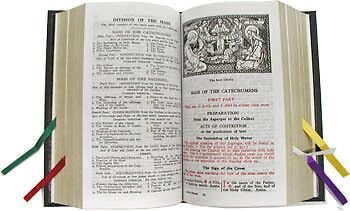 On to the last one, judged in that 2018 Taylor Marshall video as the winner against the Angelus runner-up. This popularity meant that it's been selling out, and reprintings may be hard to find. Attesting to today's presence of TLM devotees seeking out a missal that will last for decades.

First of all, you can see what you're getting, at least as far as the engine if not the exterior. Archive.org uploaded from a trad website (which watermarked each page with its URL) a "Latin Catholic Roman Missal 1938 Mass." Which means if you search at Internet Archive under variations of "Fr. Lasance" you will not find it there. The pdf is ragged, as if the pages were torn out, and sizes of some vary in resolution or dimensions, but at least you can manipulate the images to read its wavering font reproduction, more or less. And, the Latin and English are equal in size, the only instance (outside the space afforded in many missals for the Canon) of a missal consistently typeset. Here is the opening before High Mass commences, for comparison.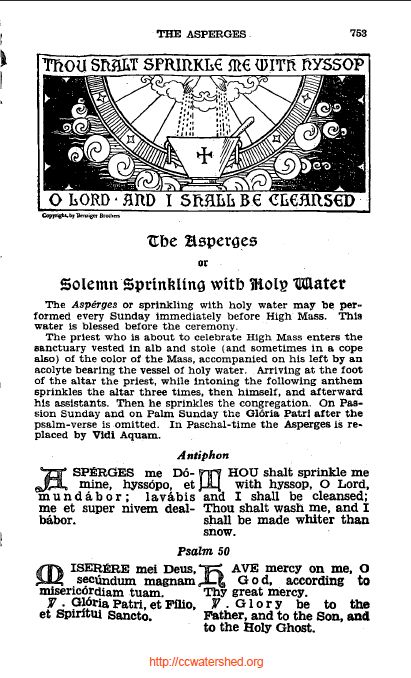 In the printed missal, see how the rubrics reproduce the commentary for the Canon as rubrics.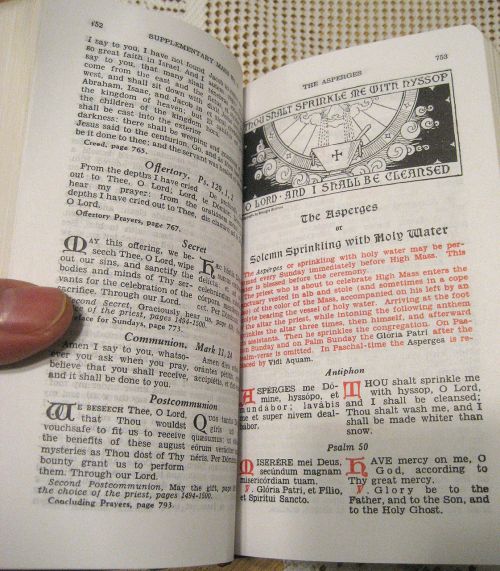 Two features distinguish the "Fr. Lasance New Roman Missal."

First, the illustrations of the Canon. The Daughters of Mary Press gives viewers a two-minute video glimpse, even if a lot of that time is not given over to the actual details on the page. The Lasance 1938's table of contents and index of Masses and Prayers—and a sample engraving page from the Canon— is scanned better at Fish Eaters' Using and Buying a Missal. Quality, if in motion, images of the contents, will best be seen in Dr. Marshall's "Latin Mass Hand Missal Review." (Given our FE editrix-dudette-founder's counsel, amidst uncertainty of YouTube and online platforms long-term hosting TLM alongside conservative or traditional media, I have not embedded YT links; sustained stability of these redoubts may succumb to a N.O.~N.W.O.)

Therefore, I direct you to sage advice at St. Anne's Helper about choosing the right missal, and as that site frames the YT Marshall plan. (They also sell custom-fit missal covers for the Big 4.)

Their explanation at the link above mentions that the Lasance includes English and Latin texts, with the exception of Epistles and Gospel readings in the vernacular only. Like other missals, it highlights rubrics for Mass directions, and it includes material "stressing the important Feasts and Highlights of our Redemption." Litanies, devotions, rosary mysteries, prayers, hymns, saint's days, psalms enrich its 1900 pages, with imprimaturs from 1936 (that version you'll peer at via Archive.org) and 1945. This would mean, as for the SADM, that minor changes in pre-1955 Holy Week, a few feasts, holy days, or solemnities, and/or the Canon may occur, but rarely. Standout additions: an in-depth "Read Mass with the Priest" illustrated study plan on how the mass and the missal work together that begins the volume, very comprehensive coverage of the "symbolic representations" as well as the hallowed sacramentals of the Eucharistic Sacrifice, and lovely line-engravings of key moments in the Mass. That plan will take you through Lent, too. I have not dealt with this complicated aspect, which has at least one vlogger on You Tube attempting to explain it all in the length of a sit-com. Suffice to say, you all can dial up a pdf of the Lasance on Archive.org to learn from those experts. These bonuses won over Dr. Marshall.

It rounds out on the larger end of the scale: 6.75" by 4.25 by the thickest yet, dimensions of 2.25". In my hands, cover and all, this tallies in real life nearly 7" x 4/14" by 2 1/4". It bends and gives when held much more flexibly than the Baronius, and somewhat more than the Angelus. The Baronius and the Fr. Lasance are about the same in heft, and page thickness nearly identical, with a slight increase in the latter of around an eighth of an inch. The paper of each skims across the fingers with a slight gloss, and the consistency of both feels the same to me.

Here you can see, at the Consecration, how the Fr. Lasance on the top contrasts with Baronius.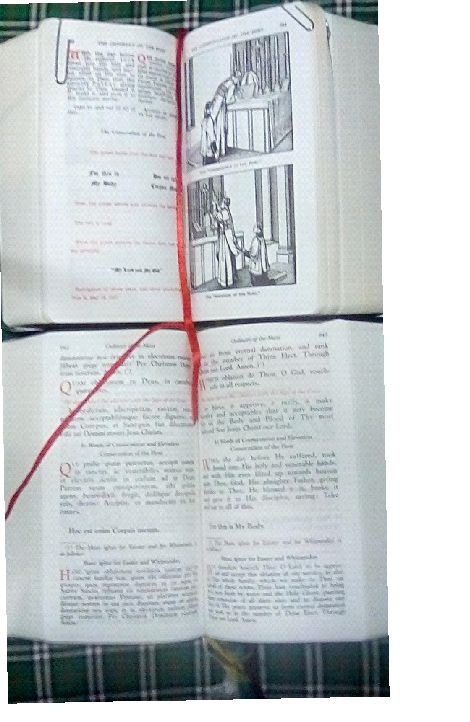 The Lasance tends to tip up a bit, as the paper is thicker for the Canon. I wish all the missals had this clever innovation, for after all, it's the part of any missal where we turn every Mass. I found that the black type on paper stock not much different side-by-side with the Baronius. Like the St. Andrew's, these all prefer a slightly sharper definition of the font, but not as "elegant" as the Angelus. Pay attention to this consideration; you'll be peering into these pages for awhile.

Remember, if you buy a reprint of the St. Andrew's, that comes in a conventional clothbound form. The Fr. Lasance's black leatherette cover, gilt, rounded edges, and sewn binding ensure durability. Not to mention a sixth ribbon, justified as there's a lot packed into this missal, as a vademecum. Keep in mind, all the same, that the compressed, old-school typeface is smaller.

Scourers of secondhand shops may benefit from knowing that post-conciliar editions may have on their title page "Christian Book Club of America" established as a post office box set in the unexpected (speaking as a Californian) high desert exurb of Palmdale CA 93560, dated 1993.

Here's my amateur snap at showing all four missals with an eight-inch clear and a foot-long wooden ruler. At top left, Lasance, then next to it, Baronius. Below, Angelus and Andrew as the reprint. They tend to look nearly the same when looking down at their covers, note well. It's on the side where the differences show, as they vary considerably in pagination and thickness. All feature similar leather-types of bindings, that are slightly textured to stick to one's digits gently.

Here's my amateur snap at showing all four missals with an eight-inch clear and a foot-long wooden ruler. At top left, Lasance, then next to it, Baronius. Below, Angelus and Andrew as the reprint. They tend to look nearly the same when looking down at their covers, note well. It's on the side where the differences show, as they vary considerably in pagination and thickness. All feature similar leather-types of bindings, that are slightly textured to stick to one's digits gently.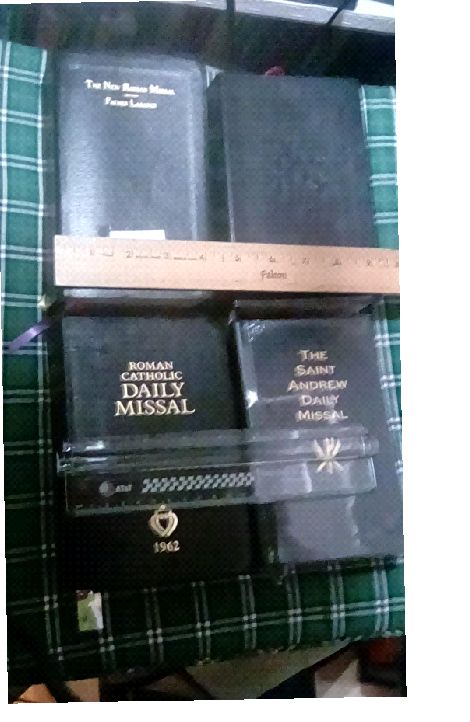 And with that, I leave you to hunt down which missal suits you best. A few wrap-up points. Why not stick to a Sunday missal? Well, as I found out not too long ago, you may arrive for a typical Sunday after Pentecost, only to find the Reverend Father chooses to enrich that with the readings from the feast also on that (as in weekly) calendar date, in this case, that of St. Michael the Archangel. So, unless the red booklet's insert sheet of the day discerns this in advance, you're left wondering about the Propers and scriptural readings that apply to that angelic power.

It pays to educate yourself about the heritage creating all these surprises or serendipities. As Martin Mosebach narrates in his erudite essays as The Heresy of Formlessness, for centuries, the Roman Missal's bulk required at least 850 pages were required to contain its contents.

And our humbler hand missals perpetuate this venerable arrangement. Introductory remarks, perhaps an encyclical or two, then Advent, Christmastide, Time after Epiphany, Season of Septuagesima precede Lent and Passiontide. Paschaltide follows Easter, then the long post-Pentecostal year (reduced post-Vatican II to "Ordinary Time)." The Canon of the Mass falls around the halfway point of any pages. Then it's feasts of God and Christ, Mary, and the feast days of the saints. Similar to a breviary, various Masses are compiled for liturgical categories. Devotions may be interspersed, although the pattern of Fr. Lasance to put these last makes sense for the user in the pews. However you package it, the results remind us of timeless ritual.

What about smartphones? The silent gentleman that has lately suddenly taken up his post in the pew next to where I "always" sit (such idiosyncracies in proxemics expressing our need for childlike security remain legion among many of us once we settle into where we habitually fulfill our Sunday obligation) follows along in night mode on his I-Phone the TLM. I-Pieta, I-Breviary, and the multilingual Divinum Officium have sites or apps that contain all you need.

But, I prefer the wisdom of Robert Cardinal Sarah in The Day Is Now Far Spent (2019). As a proponent of tradition (if not it seems the TLM explicitly in his book-long exchanges with Nicolas Diat), he counsels us to eschew any app or device that can distract us from the business at hand. And, going back to my initial praise of sacramentals, I agree. The "hand missal" you take the time to pick out, break in, and take for weekly or daily spins will get to be yours, as much as the car whose noises, rattles, bumps, glides, and turns you learn to integrate into your routine as second nature. For some of us, the older the jalopy, the more we love its odd idiosyncracies.
And, for all our dependence on the technology and medium through which you and I share the wonderful FishEaters forum and its library, it's refreshing to find an oasis from always logging on. So, I close this overview with my encouragement to choose with care your favorite model of the missal. You'll be happier if you take them for test runs, as far as online images and textual advice can offer, and ideally (not my option, thus this project for me) handling their pages "live."

As to the liturgical lore within the covers of these compendia, ponder Bishop Athanasius Schneider in his profound chapter on "Reform of the Reform" from his 2019 interviews with Diane Montagna, Christus Vincit: "In one's private prayer, everyone speaks with God in his mother tongue, but when we speak in public worship and the cult of God, we speak publicly about the truth of God, who is an ineffable mystery—a mystery which is fascinating but cannot be expressed, an awesome and fascinating mystery: mysterium tremendum et fascinosum."

With blessings on your journey with these missals on the pilgrimage we all share, "Fionnchu."